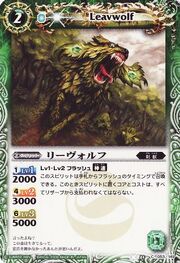 High Speed (神速, Shinsoku), is a keyword exclusive to Green cards. The effect is worded as follows:
High Speed allows the player to avoid summoning everything in their Main Step, reducing the chances of their cards getting removed before attack/block. This effect also allows players to reuse cores, especially since cores on a card go to the Reserve after it's removed from the Field. If used correctly, an aggressive play can be made.
The keyword also has a lot of derivations, which include:
Cards with High Speed
Supports
Spirits
Ultimates
Braves
Nexuses
Magic
Counters
Spirits
Magic
Related Articles
Community content is available under
CC-BY-SA
unless otherwise noted.