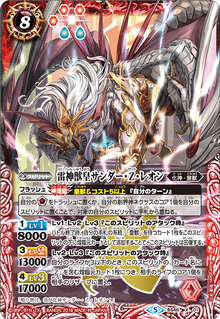 Grand Advent (神煌臨, Shinkōrin), introduced in BS46, is a subcategory of Advent, which allows the player to advent by moving a core from a Grandwalker Nexus to a spirit as the cost instead of sending the Soul Core to trash. The text reads as follows:
Only Avatars of Supreme Deities (and their respective Song Princess versions) have this effect, limiting it to few Spirits and decks.
Grand Advent allows the player to Advent a strong Spirit while still keeping the Soul Core stored, allowing for multiple Advents or Adventing and still have Soul Core-locked effects available and it also doubles as a discreet Release effect.
List of Cards with Grand Advent
List of Spirits with Grand Advent
Related Articles
Community content is available under
CC-BY-SA
unless otherwise noted.