Goradon

ゴラドン

Name
Goradon
Kanji/Kana
ゴラドン
Name (English)
Gora
Name (Italian)
Goradon
Released in (Japanese)
BS01, BSC01, Kerokero Starter, BSC22
Released in (English)
BS01- Call of the Core
Released in (Italian)
SE01
Color
Red
Cost
0
Reduction
0
Symbols
Family
Reptile Beast
Levels

Level 1: 1 core, 1000 BP
Level 2: 3 core, 3000 BP

Level 1: 1 core, 2000 BP
Level 2: 3 core, 5000 BP

Flavor Text

English/Japanese
The disagreeable dragons and the extremely violent dinosaurs. The people who were caught between them had no choice but to become their followers.

Japanese
いけすかない竜人たち。乱暴極まる恐竜たち。

間にはさまれ迷ったやつらは、 両方の使いっ走りになることを選んじまった。

Italian
Gli irascibili draghi sono dinosauri estremamente violenti. Coloro che sono caduti nelle loro grinfie non hanno avuto altra scelta se non diventare solo seguaci.

Rarity
Common
Illustration
Hiroshi Maruyama (concept)
Rulings/Restrictions
None
Trivia:
Although Goradon's name was changed in Bandai's release, its counterpart, Dark Goradon, was not. Its name was also left unchanged in the demo deck. This is an odd name change, because Goradon is simply a scrambling of doragon.
Appearances:
Battle Spirits Shounen Toppa Bashin
Battle Spirits Shounen Gekiha Dan
Gallery: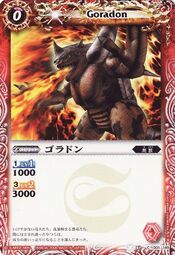 Community content is available under
CC-BY-SA
unless otherwise noted.