New Pokemon Games - The Loop
Play Sound
God Break
ゴッドブレイク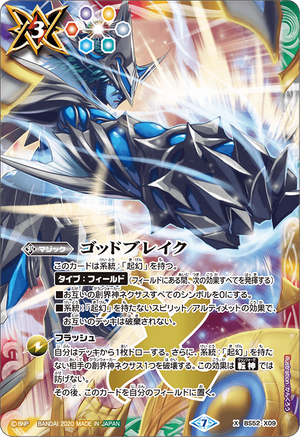 Card Effects
This card has the "Primal" family.

Type: Field (While on the Field, the following effects are active)
█ Every Grandwalker Nexus either players control has zero symbols.
█ Cards in either deck cannot be discarded by effects of non-"Primal" family Spirits/Ultimates.



Flash


Draw a card. Also, destroy an opposing non-"Primal" family Grandwalker Nexus. This effect cannot be prevented by Grandphosis. Then, put this card onto your Field.
Card Effects (JP/日本語)
このカードは系統:「起幻」を持つ。

【タイプ:フィールド】(フィールドにある間、次の効果すべてを発揮する)
■お互いの創界神ネクサスすべてのシンボルを0に固定する。
■系統:「起幻」を持たないスピリット/アルティメットの効果で、お互いのデッキは破棄されない。

フラッシュ:自分はデッキから1枚ドローする。さらに、系統:「起幻」を持たない相手の創界神ネクサス1つを破壊する。この効果は【転神】では防げない。その後、このカードを自分のフィールドに置く。
Extra Information
The first non-promo X-Rare Magic card.
Gallery