(4 intermediate revisions by 2 users not shown)
Line 1:
Line 1:
−

[[File:Distruction1.gif|thumb]]

+

[[File:.|thumb]]

 
+

'''Fusion Beast''' (''異合; igou'') is a family premiered in [[BS03]]. The family is prominently in the Blue color, but with the introduction of Blue/Green [[Rush]] deck in the Sword Blades era, Green Fusion Beasts also began to appear. Many seem to be based on sea creatures, or have an ocean theme. As the name suggests, the cards often depict creatures with mixed bodies, with one of the most representative examples being Spirits with multiple heads connected to one body (e.g. [[The DogTwelveGodKing Greedog]]). It is also worth noting that many of the Fusion Beasts are based on mythical creatures made by [https://en.wikipedia.org/wiki/H._P._Lovecraft Howard Philips Lovecraft], who was an American author who became famous with his works of horror fictions. One example of Lovecraft's creatures in BS is [[The MalevolentDeity Nyarla-Trap]].

−

Fusion Beast (''異合; igou'') is a family in the Battle Spirits trading card game.

 
 
 
 
+

From very early stage, the family often focused on symbol beatdown, with effects such as that of [[The Ruins of the Seabed]] to give Spirits double symbols, or having high cost finishers which straight up having printed double symbols themselves (e.g. [[The AbyssalTwinDragon Hasturk]]). Since Advent era, the family also began to carry the [[The Pirates|Pirate]] archetype, extending the symbol beatdown to OTK win condition with [[The PirateDragonEmperor Siegfried-Abyss]] as the main finisher.

−

It premiered in BS03. Almost all Fusion Beast spirits are blue. Many seem to be based on sea creatures, or have an ocean theme.

 
 
 
 
+

In Grand Advent era and Ultra Advent, the family was given the sub-archetype Grand Sea Pirate to support [[The Grandwalker Poseidon]] and, detaching far from the family's usual win condition, the deck focuses on deck mill and banish, and many effects even stressed on erasing symbols from the attacking Spirits to prevent them from taking lives.

−

Fusion Beasts may have [[Rush]].

 
 
+
⚫
 
 
+

On the collaboration side, both Kamen Rider Build and Kamen Rider OOO took on the family, as both series are about fusing different powers to become stronger. Kamen Rider Build focuses on abusing the [[Change]] keyword; while Kamen Rider OOO is about constant attacks, and with the recent support from [[CB17]], also about flipping Rebirth Nexuses through [[Zero Rebirth]].

⚫
 
 
+
 
⚫
 
+
 
⚫
 
+

{{Familynav}}

 

[[Category:Family]]

 

[[Category:Family]]

−

[[Category:Fusion Beasts]]

 
---
Latest revision as of 03:43, 29 April 2021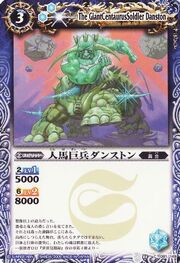 Fusion Beast (異合; igou) is a family premiered in BS03. The family is prominently in the Blue color, but with the introduction of Blue/Green Rush deck in the Sword Blades era, Green Fusion Beasts also began to appear. Many seem to be based on sea creatures, or have an ocean theme. As the name suggests, the cards often depict creatures with mixed bodies, with one of the most representative examples being Spirits with multiple heads connected to one body (e.g. The DogTwelveGodKing Greedog). It is also worth noting that many of the Fusion Beasts are based on mythical creatures made by Howard Philips Lovecraft, who was an American author who became famous with his works of horror fictions. One example of Lovecraft's creatures in BS is The MalevolentDeity Nyarla-Trap.
From very early stage, the family often focused on symbol beatdown, with effects such as that of The Ruins of the Seabed to give Spirits double symbols, or having high cost finishers which straight up having printed double symbols themselves (e.g. The AbyssalTwinDragon Hasturk). Since Advent era, the family also began to carry the Pirate archetype, extending the symbol beatdown to OTK win condition with The PirateDragonEmperor Siegfried-Abyss as the main finisher.
In Grand Advent era and Ultra Advent, the family was given the sub-archetype Grand Sea Pirate to support The Grandwalker Poseidon and, detaching far from the family's usual win condition, the deck focuses on deck mill and banish, and many effects even stressed on erasing symbols from the attacking Spirits to prevent them from taking lives.
On the collaboration side, both Kamen Rider Build and Kamen Rider OOO took on the family, as both series are about fusing different powers to become stronger. Kamen Rider Build focuses on abusing the Change keyword; while Kamen Rider OOO is about constant attacks, and with the recent support from CB17, also about flipping Rebirth Nexuses through Zero Rebirth.
Also see:
Community content is available under
CC-BY-SA
unless otherwise noted.