New Pokemon Games - The Loop
Play Sound
Fortresster Emperor
フォートレスターエンペラー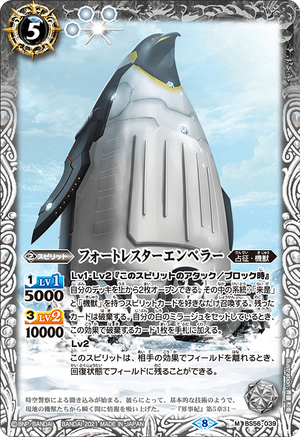 Card Effects
[LV1][LV2] (When Attacks/Blocks)
You can reveal two cards from your decktop. Among them, you can summon any number of "Proximate" & "Machine Beast" family Spirit cards. Discard any remaining cards. While you have a White Mirage set, add one of the cards discarded by this effect to the Hand.

[LV2]
When this Spirit would leave the Field by opposing effects, it can remain on the Field, refreshed.
Card Effects (JP/日本語)
[Lv1-Lv2]『このスピリットのアタック/ブロック時』
自分のデッキを上から2枚オープンできる。その中の系統:「来是」と「機獣」を持つスピリットカードを好きなだけ召喚する。残ったカードは破棄する。自分の白のミラージュをセットしているとき、この効果で破棄するカード1枚を手札に加える。

[Lv2]
このスピリットは、相手の効果でフィールドを離れるとき、回復状態でフィールドに残ることができる。
Sets
BS56 (Block icon 8 - Master Rare)
Illust:

Saitou Kazue

EN Flavor:


The inquiry by the Spacetime Police has started. Seemingly a basic skill to them, they casually sucked a great deal of information up from the local Machine Beasts in a few seconds.
―"Record of Worldly Matters" Volume 5:31―

JP Flavor:


時空警察による聞き込みが始まる。彼らにとって基本的な技術のようで、現地の機獣たちから瞬く間に情報を吸い上げた。
―『界事紀』第5章31―