Emeraldscissor

エメラルドシーザー

Name
Emeraldscissor
Kanji/Kana
エメラルドシーザー
Name (Italian)
Scarabeo Smeraldino
Released in (Japanese)
BS01, BSC02, BSC22
Released in (English)
BS01- Call of the Core
Released in (Italian)
SE02
Color
Green
Cost
4
Reduction
Symbols
Family
Parasite
Levels
Level 1: 1 core, 3000 BP
Level 2: 2 core, 4000 BP
Description

English

[LV1][LV2] (When Summoned) Exhaust target unexhausted spirit your opponent controls.

[LV1][LV2] (When Summoned) Exhaust an opposing Spirit/Ultimate.

[LV2] Your opponent can't make the core on your Green spirits become less than two.

Japanese

Lv1・Lv2『このスピリットの召喚時』相手のスピリット1体を疲労させる。

Lv1・Lv2『このスピリットの召喚時』相手のスピリット/アルティメット1体を疲労させる。 Lv2自分の緑のスピリットすべてのコアの数は、相手によって2個以下にならない。

Flavor Text

English/Japanese
They are brutal, but their jaws make good medicine. Of course it wouldn't be easy to break them off.

Japanese
凶暴なヤツだけど、あいつのあごはいい薬になるんだ。

折るにはちょっと覚悟がいるけどね。

Rarity
Common
Illustration
Yuuya Kobayashi
Rulings/Restrictions
Rulings/Restrictions: The English version incorrectly leaves out the word "unexhausted" in the effect.
Trivia
Related to: Jungle Law
Appearances:
Battle Spirits Shounen Toppa Bashin
Gallery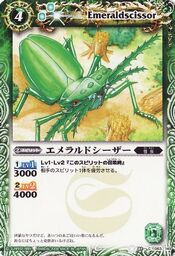 Community content is available under
CC-BY-SA
unless otherwise noted.