Emeant

エメアント

Name
Emeant
Kanji/Kana
エメアント
Released in (Japanese)
BS01, BSC22
Released in (English)
BS01- Call of the Core
Color
Green
Cost
2
Reduction
Symbols
Family
Parasite
Levels
Level 1: 1 core, 1000 BP
Level 2: 3 core, 4000 BP
Description

English

[LV1][LV2] (When Destroyed) All spirits you control get +1000BP until end of turn.

[LV1][LV2] The core on all your green spirits cannot become 0 due to your opponent.

[LV1][LV2] (When Destroyed) During this turn, all Spirits you control get +3000 BP.

Japanese

Lv1・Lv2『このスピリットの破壊時』このターンの間、自分のスピリットすべてをBP+1000する。

Lv1・Lv2自分の緑のスピリットすべてのコアの数は、相手によって0個にならない。 Lv1・Lv2『このスピリットの破壊時』このターンの間、自分のスピリットすべてをBP+3000する。

Flavor Text

English/Japanese
Even you guys are a good meal for them. So, be careful. They'll take you to their nest while you're sleeping.

Japanese
あいつらにとっては、あんたたちだっておいしいご馳走さ。

寝ているうちに巣に運ばれるから気をつけな。

Rarity
Common
Illustration
Yuuya Kobayashi
Rulings/Restrictions
None
Trivia:
Related to: The Budding Plain, Emeantman
Gallery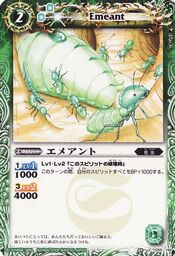 Community content is available under
CC-BY-SA
unless otherwise noted.