Arcane: League of Legends - The Loop
Play Sound
Drone Moth
ドローンモス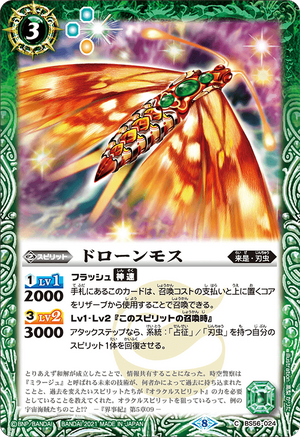 Card Effects
Flash - High Speed
This card in Hand can be summoned by paying the cost with cores in the Reserve. In this case, cores to be put on this Spirit must also be from the Reserve.

[LV1][LV2] (When Summoned)
If it is the Attack Step, refresh a "Astroblazer"/"Blade Insect" family Spirit you control.
Card Effects (JP/日本語)
[フラッシュ]【神速】
手札にあるこのカードは、召喚コストの支払いと上に置くコアをリザーブから使用することで召喚できる。

[Lv1-Lv2]『このスピリットの召喚時』
アタックステップなら、系統:「占征」/「刃虫」を持つ自分のスピリット1体を回復させる。
Sets
BS56 (Block icon 8 - Common)
Illust:

Takanashi Karita

EN Flavor:


Anyway, since we reached a common understanding, we started to share what information we each have on hands. The Spacetime Police told us that "Mirage", a kind of future technology, was brought to the past by someone, and the power of "Oracle Spirits" was necessary to those spirits who would like to change the past. Aiming at the Oracle Spirits...isn't that what those SpacePirates are doing?!
―"Record of Worldly Matters" Volume 5:09―

JP Flavor:


とりあえず和解が成立したことで、情報共有することになった。時空警察は『ミラージュ』と呼ばれる未来の技術が、何者かによって過去に持ち込まれたことと、過去を変えたいスピリットたちが『オラクルスピリット』の力を必要としていることを教えてくれた。オラクルスピリットを狙っているって、例の宇宙海賊たちのこと!? 
―『界事紀』第5章09―