DragonKnight Demon-God
竜騎士魔神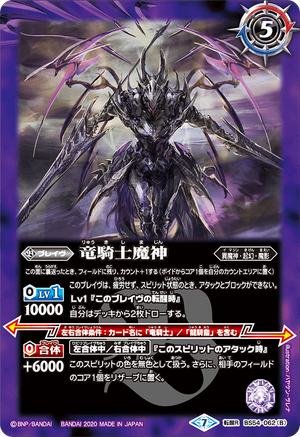 Kanji (漢字)
竜騎士魔神
Card Type
Brave
Color
Purple
Cost
5
Symbols
Families
Imagine, Primal, Evil Shadow
Levels
Level 1: 1 core, 10000 BP
Braved: 0 cores, +6000 BP
Brave Condition
[Left/Right] "DragonKnight"/
"DragonRideEmperor"-named
Card Effects
When you flip into this side, this card remains on the Field, and you gain a counter. (Put a core from the Void to your Counter Area.)

This Brave doesn't exhaust, and when in Spirit condition, can't attack or block.

[LV1] (When Reborn)
Draw two cards.



During Left/Right Brave

(When Attacks)
Treat this Spirit's color as colorless. Also, send a core from the opposing Field to the Reserve.
Card Effects (JP/日本語)
この面に裏返ったとき、フィールドに残り、カウント+1する(ボイドからコア1個を自分のカウントエリアに置く)

このブレイヴは、疲労せず、スピリット状態のとき、アタックとブロックができない。

Lv1『このブレイヴの転醒時』
自分はデッキから2枚ドローする。

【左合体中/右合体中】『このスピリットのアタック時』
このスピリットの色を無色として扱う。さらに、相手のフィールドのコア1個をリザーブに置く。