Dra-Golem

ドラ・ゴレム

Name
Dra-Golem
Kanji/Kana
ドラ・ゴレム
Released in (Japanese)
BS04
Released in (English)
BS04- Ascension of Dragons
Color
Blue
Cost
3
Reduction
Symbols
Family
Artificial Soldier, Winged Dragon
Levels
Level 1: 1 core, 3000 BP
Level 2: 4 core, 4000 BP
Description

English
[LV2] (During Your Battle Phase) Spirits you control with Evolution are treated as being at the following LV depending on the number of cores they have on them
1 core = LV1
2 cores = LV2
3 or more cores = the highest LV they have

Flavor Text

English/Japanese
Do artisans have infinite originality and ingenuity? Artificial soldiers are usually human-shaped, but this one is dragon-shaped! I'm sure that he's going to get a high artistic score, but can he really compete in weightlifting?

Rarity
Uncommon
Illustration
Gouta Nanami
Rulings/Restrictions
None
Trivia:
Related to:
Rock-Golem, Wood-Golem, Volcano-Golem, Iron-Golem, Steam-Golem, The MobileFortress Castle-Golem, Bronze-Golem, Mithril-Golem, Block-Golem, Silver-Golem, Cannon-Golem, Island-Golem, The PhoenicDeity Phoenix-Golem, The VeteranGeneral Dogu-Golem, The GodMadeSoldier Orihalcum-Golem, Forest-Golem, Locomo-Golem, Fort-Golem, Clay-Golem, Tower-Golem, Shell-Golem, Centaurus-Golem, The BalanceDeity Libra-Golem, Hinoki-Golem, Nata-Golem, The AncientBattleship Argo-Golem, Rock-Golem-Custom, Kurofune-Golem, Proto-Golem, The SunGiantSoldier Solar-Golem, Rammer-Golem, Tsundog-Golem, Grenade-Golem, Kojirond-Golem,The HollowGolemEmperor Phoenix-Golem, The IronHero Saigord-Golem, Enkidu-Golem, Majin-Golem, Meteorite-Golem
Gallery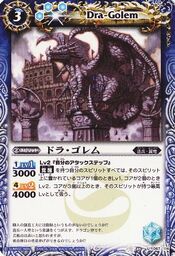 Community content is available under
CC-BY-SA
unless otherwise noted.