Diva (詩姫; Dība) is a family in the Battle Spirits trading card game, which debuted as a Yellow family in BS24.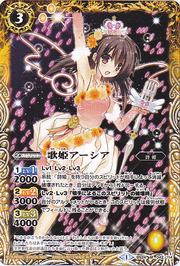 Divas are series of idol cards introduced in BS24. They are divided into several teams (list of teams below). Some Divas aren't in any teams.
Most Divas are based on other cards in the game, aesthetically and effect-wise. Some Divas directly reuse characters from previous cards, and some Divas are completely original, mostly released as Promo cards.
Divas usually have the second family in common, which are Private Wear, Stage Style, School Style, Grand Style or Idol. These families can only be found in Diva cards.
Original Divas
Together these four Divas form the unit Prim-Angu, meaning "the primary angels".
Asia
Marika
Coco
Mirefa
Divas are divided in Teams, each with a different theme, but all of them also related to the card they're based on.
Shiny Hearts: Red and "Light"-themed Spirits used by protagonists.
Absolutes: Spirits which were very powerful on their meta.
Twilight Gothic: Purple and "Dark"-themed Spirits used by antagonists.
Pretty Animals: Anthropomorphized Spirits.
Legendoll: Previous cards re-appeared as Divas with unchanged appearance.
Hyakka Ryouran: Japanese-themed Spirits and War Princesses.
Double Vivid: Double Drive Key Spirits.
Grand Siesta: Grand Advent Saga Spirits.
Sacred Swords: Sword Eyes/Exalted Sword Saga Spirits.
CoZ12: Galaxian Spirits, AKB48-style abbreviation of "12 Constellations of the Zodiac".
Shiny Hearts
Ran-Blasear
Rabi-Darin
Saya-Shine
Based on

The PureWhiteVirgo Saya-Shine

.
Noah-Fleur
Laura-Byakuran
Griffia-Darc
Saika-Undine
Kasane
Disguise of Kashaneko during the Sengoku Festival.
Siegfreeda
Rei-Ohba
According to official votes, Rei-Ohba is the most popular Diva among players.
Emma-Jean
Banri-Sora
Senri-Taiga
Hokuto-Apollonia
Based on

The BigDipperDragon Sieg-Apollodragon (Red)

.
Raiza-Dinob
Banri-Zell
| Booster Pack | Name | Style |
| --- | --- | --- |
| BSC31 | The AcademyUniform Banri-Zell | School Style |
| BSC31 | The DivaHero Banri-Zell | Stage Style |
| BSC33 | The WinterAttire Banri-Zell | School Style |
Absolutes
Hilda-Margaret
Delis-Pertio
Millia-Sunday
Bsed on

The NetherThreeGiants Zainde-Million

.
| Booster Pack | Name | Style |
| --- | --- | --- |
| BSC16 | Millia-Sunday | Private Wear |
| BSC16 | The IdolThreeGiants Millia-Sunday | Stage Style |
| BSC18 | The InnocentWave Millia-Sunday | Stage Style |
Fongneena
Leafa-Sears
Ortina-Clan
Ryune-Mato
Rose-Berry
Garnet-Ruti
| Booster Pack | Name | Style |
| --- | --- | --- |
| BSC18 | Garnet-Ruti | Private Wear |
| BSC18 | The SummerBreezeDancer Garnet-Ruti | Stage Style |
Momo-Gyuumonje
Rize-Chromwell
Jakomina-Kit
Zexia-Tenma
Frieda-Laifa
Marimo-Edith
Nanaka-Shironaga
Amedis-Sognac
Tauris-King
Based on The Duke Kingtaurus.
Forms the unit Original 4 with Siegfreeda, Delis-Pertio, and Augeria-Din.
Vallery-Verse
Augeria-Din
Legendoll
Angu
Avrielle
Cattleya
Trickster
Romeda
Canon
Tsuru
| Booster Pack | Name | Style |
| --- | --- | --- |
| BSC23 | The SwordsSaintDiva Tsuru | - |
Blackster
Fromage
Yellow-Merlin
Alice
Sophia
Twilight Gothic
Seina-Ryumin
Cassy-Leim
Ney-Rantail
Diana-Fluer
Mai-Asuka
Leiya-Quattro
Mudownya
Jeanne-Dranies
Known to be madly in love with Rei-Ohba.
Sonia-A-Wasp
Sierra-Murceine
Flamme-Sandria
Magnolilia-Mizer
Luna-Vandil
Iluma-Image
Berseria-Beat
Pretty Animals
Wendy-Keito
Dia-Lune
Chyu
Fuuga-Rin
Rias-Urovorun
Loria-Sheeps
Misty-Lylebit
Riolu-Tida
Dora-Crusair
Mou-Chuchu
Shishino-Quattro
Muu
An
Based on Ultimate-Drian
Together with Muu and Shoko, they form the unit Ultimate Stars.
Shoko
Based on Ultimate-Chocodra
Together with An and Muu, they form the unit Ultimate Stars.
Hyakka Ryouran
Utai
Monaka
Yuzuki
Makina
Double Vivid
The name Double Vivid is a parody to the keyword Double Drive.
Formulia-Execeeda
Gail-Fenique
Grand Siesta
Sandy-Z-Leonora
Saclair-Metum
Wiese-Z-Thunder
Negasbokko
Lycia-Auth
Ceryne-Lightning
Copheena
CoZ12
Vielje
Pollon-Sageeta
Leona-Rikeboom
Sephi-Aries
Candy-Cerd
Bolmi
Dragomonica-Taurus
Aquael-Shion
Gemina & Nizel
Livie-La-Fohrem
Piscina-Galeon
Speania-Squall
Multi-Teams (more than 2 teams)
Cinderella
Unaffiliated
Hocha
In the lore, she was the one who started the trend of Divas, originally with the intention of saving Grand Lolo from the attack of Ultimates through holding Diva concerts.
Raquel
Known to love Pentans very much.
The only Diva that is an Ultimate.
Marl
Laila Sisters
Agrs
Based on the mascot character AGRS of Tomokazu Sugita's radio show "Anigera! Didoooon!!".
Kotone
Waltz
Shining-Gantan
Lili
Momomin
Kirika/Magoichi
Her original name is Kirika. Magoichi is the name she inherits after taking on the role of general.
Mizuno
Sawael
Lemuriel
Pedira-Mai
Ramdiel
Aeriphiel
Araphiel
Mirediel
Aikatsu Units
With the collaboration with the Aikatsu franchise, there are more teams in reference of the units in the Aikatsu universe. Due to the lack of cards in each team, the following lists are arranged according to teams instead of Spirit names.
2wingS
| Booster Pack | Name | Style |
| --- | --- | --- |
| CB14 | AngelyGeminiCoord Hoshimiya Ichigo | Idol |
| | SwingGeminiCoord Otoshiro Seira | Idol |
Honey Cat
| Booster Pack | Name | Style |
| --- | --- | --- |
| CB14 | SpicyKittyCoord Chouno Maika | Idol |
| CB14 | PrettyKittyCoord Hinata Ema | Idol |
I Believe
| Booster Pack | Name | Style |
| --- | --- | --- |
| BSC35 | GloriousEmeraldCoord Alicia Charlotte | Idol |
| | HeavenlyRubyCoord Tenshou Hibiki | Idol |
Love Me Tear
| Booster Pack | Name | Style |
| --- | --- | --- |
| BSC35 | LoveDestinyCoord Kamishiro Karen | Idol |
| BSC35 | SoulDestinyCoord Asuka Mirai | Idol |
Luminas
| Booster Pack | Name | Style |
| --- | --- | --- |
| BSC35 | ArmeriaPrismCoord Oozora Akari | Idol |
| BSC35 | LilacPrismCoord Hikami Sumire | Idol |
| BSC35 | MargueritePrismCoord Shinjou Hinaki | Idol |
| CB14 | StreetArtCoord Shinjou Hinaki | Idol |
| CB14 | BlueEmpressCoord Hikami Sumire | Idol |
| CB14 | WhiteSkyVeilCoord Oozora Akari | Idol |
Masquerade
Pure Palette
| Booster Pack | Name | Style |
| --- | --- | --- |
| BSC35 | MaterialSapphireCoord Minato Mio | |
| BSC35 | MelodyDiamondCoord Yuuki Aine | |
| CB14 | BloomPaletteCoord Yuuki Aine | Idol |
| CB14 | AquaPaletteCoord Minato Mio | Idol |
Reflect Moon
| Booster Pack | Name | Style |
| --- | --- | --- |
| CB14 | NoirPlumeCoord Shirayuri Sakuya | Idol |
| CB14 | BlancPlumeCoord Shirayuri Kaguya | Idol |
Soleil
| Booster Pack | Name | Style |
| --- | --- | --- |
| BSC35 | SunriseCoord Kiriya Aoi | Idol |
| BSC35 | SunsetCoord Shibuki Ran | Idol |
| BSC35 | SunshineCoord Hoshimiya Ichigo | Idol |
WM
| Booster Pack | Name | Style |
| --- | --- | --- |
| BSC35 | SummerNightMiracleCoord Natsuki Mikuru | Idol |
| BSC35 | SummerNightMoonCoord Kanzaki Mizuki | Idol |
Also see:
List of Divas