New Pokemon Games - The Loop
Play Sound
Cosmo Saber Tiger -Huma Mode-
コスモサーベルタイガー -ヒューマモード-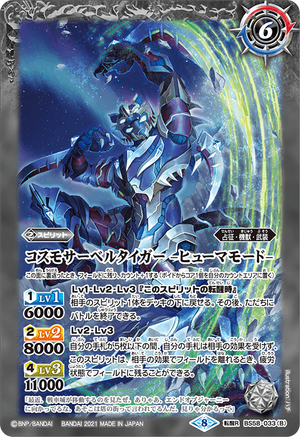 Card Effects
When you flip into this side, this card remains on the Field, and you gain a counter. (Put a core from the Void to your Counter Area.)

[LV1][LV2][LV3] (When Reborn)
You can return an opposing Spirit to the deckbottom. Then, you can immediately end the battle.

[LV2][LV3]
While your Hand has five or less cards, your Hand is unaffected by opposing effects, and when this Spirit would leave the Field by opposing effects, it can remain on the Field, exhausted.
Card Effects (JP/日本語)
この面に裏返ったとき、フィールドに残り、カウント+1する(ボイドからコア1個を自分のカウントエリアに置く)
Lv1・Lv2・Lv3『このスピリットの転醒時』
相手のスピリット1体をデッキの下に戻せる。その後、ただちにバトルを終了できる。


Lv2・Lv3
自分の手札が5枚以下の間、自分の手札は相手の効果を受けず、このスピリットは、相手の効果でフィールドを離れるとき、疲労状態でフィールドに残ることができる。
Sets
BS58 (Block icon 8 - Rebirth Rare)
Illust:

Hachi

EN Flavor:


"Oh, recently I've seen the Chariot City moving. Um...Ah, I think...it is heading towards End-Of-Journey? People say that's the Tower's city. You will understand when you see it."

JP Flavor:


「最近、戦車城が移動するのを見たぜ。ありゃあ、エンドオブジャーニーに向かってるな。あそこは塔の街って言われてるんだ。見りゃ分かるって」