New Pokemon Games - The Loop
Play Sound
Cosmo Quagga
コスモクアッガー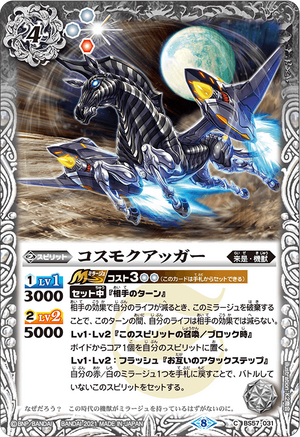 Card Effects
Mirage:
Cost 3 (
) (This card can be set from the Hand)


During Set

(Opposing Turn)
When an opposing effect would reduce your Life, by discarding this Mirage, during this turn, your Life can't be reduced by opposing effects.

[LV1][LV2] (When Summoned/Blocks)
Put a core from the Void to any Spirit you control.

[LV1][LV2] Flash - (Either Attack Step)
By returning one of your Red/White Mirage to the Hand, set this non-battling Spirit.
Card Effects (JP/日本語)
【ミラージュ:コスト3(2)(このカードは手札からセットできる)】
【セット中】『相手のターン』
相手の効果で自分のライフが減るとき、このミラージュを破棄することで、このターンの間、自分のライフは相手の効果では減らない。

Lv1・Lv2『このスピリットの召喚/ブロック時』
ボイドからコア1個を自分のスピリットに置く。


Lv1・Lv2:フラッシュ『お互いのアタックステップ』
自分の赤/白のミラージュ1つを手札に戻すことで、バトルしていないこのスピリットをセットする。
Sets
BS57 (Block icon 8 - Common)
Illust:

K2 Shoutai

EN Flavor:


I wonder why. The Machine Beasts of this era should not be having Mirage with them supposedly.

JP Flavor:


なぜだろう? この時代の機獣がミラージュを持っているはずがないのに。