New Pokemon Games - The Loop
Play Sound
Cosmo Great Auk
コスモグレートオーク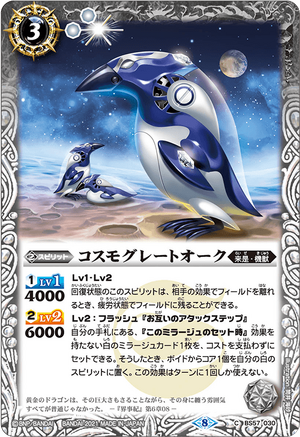 Kanji (漢字)
コスモグレートオーク
Card Type
Spirit
Color
White
Cost
3
Reductions
Symbols
Families
Proximate, Machine Beast
Levels
Level 1: 1 core, 4000 BP
Level 2: 2 cores, 6000 BP
Card Effects
[LV1][LV2]
When this refreshed Spirit would leave the Field by opposing effects, it can remain on the Field, exhausted.

[LV2] Flash - (Either Attack Step)
You can set a White Mirage card without (When Set) effects from your Hand, without paying the cost. When you've done so, put a core from the Void to any White Spirit you control. This effect can only be used once per turn.
Card Effects (JP/日本語)
Lv1・Lv2
回復状態のこのスピリットは、相手の効果でフィールドを離れるとき、疲労状態でフィールドに残ることができる。

Lv2:フラッシュ『お互いのアタックステップ』
自分の手札にある、『このミラージュのセット時』効果を持たない白のミラージュカード1枚を、コストを支払わずにセットできる。そうしたとき、ボイドからコア1個を自分の白のスピリットに置く。この効果はターンに1回しか使えない。
Sets
BS57 (Block icon 8 - Common)
Illust:

Tsutsui Misa

EN Flavor:


The golden dragon was not just gigantic in size, but was also giving off a no ordinary vibe.
―"Record of Worldly Matters" Volume 6:08―

JP Flavor:


黄金のドラゴンは、その巨大さもさることながら、その身に纏う雰囲気すべてが普通じゃなかった。
―『界事紀』第6章08―