Roblox: DeepWoken - The Loop
Play Sound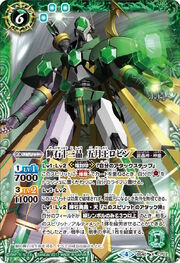 Birthgem Deities (誕晶神, Tanjōshin?) are a family of Spirits which debuted in BS40 and released in all colors throughout the three "Advent" Sagas.
Pryoxene Twelve Gem
The Pryoxene Twelve Gem (輝石十二晶, Kiseki Jūnishō?) are a series of twelve "Birthgem Deity" Spirits released as Campaign X-Rares throughout the Advent Saga. Each of them represent a month of the year, and they all share general attributes:
Cost 6;
Three cost reduction;
God-King family;
Immunity to destruction; and
Advent condition ignoring effects.
Their cards, rather than having an "S" for "Spirit" or "X" for "X-Rare" have an imprintment of the Roman numeral of their respective months.
Their namesakes and art are related to their months in the following fashion:
Dark Stones
The Dark Stones (闇輝石六将, Dāku Sutōnzu?, lit. Dark Pyroxene Six Generals) are the six dark counterparts to the Pyroxene Twelve Gems, also in the "Birthgem Deity" family, which first appeared in BS42 and released as regular X-Rares from the Advent to the Ultra Advent Sagas. They utilize the Dark Esoterica ability, except their ruler Dinovenge who uses Dark Release.
Flavor texts of the Dark Stone depict them as "the darkness which has stolen the power of origin" (起源の力を盗みし闇?), representing the negative aspects of life opposite to what the Pyroxene Twelve Gems embody.
See Also