Welcome to the Battle Spirits Wiki
Battle Spirits, (バトルスピリッツ) is a two-player collectible card game developed by Bandai, Sunrise Inc, and Carddass. The card game is part of the Battle Spirits franchise which revolves around several anime series, manga and the merchandise of toys and video games. Battle Spirits is similar to the TCG Duel Masters but is more evolved as it involves a core system which is used as a resource system for your players. I would like to welcome you to this wiki and I hope that you can be part of our community.
The goal of this wiki is to list every card, set, trivia, gallery, ruling, type of Deck, tournament structure and every anime, manga and video game. If you're a committed Battle Spirits player, or just stopping by, feel free to add in little details to the appropriate sections on this Wiki.
Thank you.
All rights for images used on this wiki belong to Bandai, Sunrise Inc, and Carddass.
With the mass migration, the wiki undergoes a lot of changes, and many functions disappeared. We understand that it can be a hassle for all users, and so we are doing our best to recreate the wiki as similar as before. Do tell us if you believe there is something that should be changed. We are as new as you are in this new environment. The following is a list of functions that we have recreated.

1) "Recent Wiki Activity" is officially changed to "Recent Change", but we've also inputted the old format in. You can get there by clicking here. Or, you can also get there by checking the toolbar at the very bottom of your screen.
Featured Card Spotlight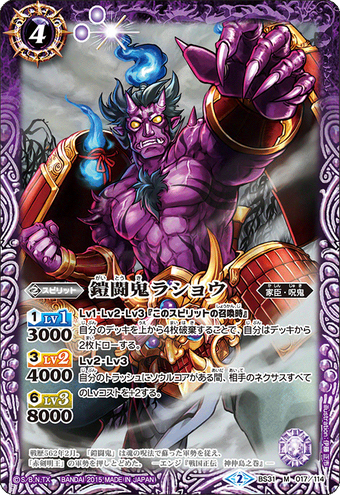 This year's first review we are starting with The ArmoredWarOgre Rashou, a Purple Cost 4 Spirit that is limited to one copy per deck. For those who have played the game for a while, certainly you would know this card. Due to the recent dependence on Nexuses, some Nexus removals would be nice. As a Purple card, Rashou proves itself to be useful in many Purple decks, as the color itself never has a lot to deal with Nexuses. Rashou is one of the very few ones which can get rid of all opposing Nexuses at once, and is relatively cheap to be summoned compared to the others. Its effect is to increase the level cost of opposing Nexuses, meaning when originally a Nexus needs zero cores to maintain on the field, Rashou makes it require two cores to do so. As the player cannot immediately move cores to the Nexus, it will be depleted. Plus, Rashou's effect targets all opposing Nexuses at once, so if the opponent is not prepared, it will be a board wipe. Even better, since the effect is a permanent effect, it activates immediately when Rashou is summoned onto the field, and does not get locked out by most other effects, making it a very reliable removal. And because it is a permanent effect, even if it cannot remove the Nexuses, it still forces the opponent to spend more cores on sustaining the board.


Rashou also has another effect, which is a summon effect that mills four from your own deck to draw two cards. While for other colors stacking your own trash perhaps is not that useful, but for sure it is an ability wanted in Purple. The player is gaining both hand advantage and more choices for trash recycle.


Like any other versatile cards, Rashou can be put in any deck, but usually limited to Purple decks. In terms of recent decks, most often it can be seen in Purple Primal. While the deck has The HellRouseKing Luciferd, which has a similar effect against Nexuses, it is simply too high cost, plus it is an attack effect, and there are many ways to stop Luciferd before it attacks. The most recent Purple deck, Izanagi & Izanami, can also make use of Rashou, as the deck itself does not have many choices in dealing with Nexuses. For this deck, the trash-stacking effect is also especially useful.


With the next set being a collaboration set, there may be some interesting cards next. Do stay tuned!
Check out the previous Featured Cards
Booster Sets and Starter Decks
Character of the Month
Kousuke-kun a.k.a "The Herald of Horus" a.k.a "Green Guardian of 2040" a.k.a "Blessed reveals only if you reply with 'here comes the age of fatso'" a.k.a "Killer of Underage Killers" a.k.a "The Man who Plays Horus like a Sara deck."
Past Entries
Battle Spirits Gallet's Revolution Episode 4: Bastion

Gallet has to visit the bastion for the third Rebirth card, meanwhile Varte has some other plans.
Community content is available under
CC-BY-SA
unless otherwise noted.