Battle Spirits Sword Eyes Gekitouden
Type
Anime series
Length
50 Episodes
Director
Masaki Watanabe
First Release
September 9, 2012
Aired On
TV Asahi
Battle Spirits Sword Eyes (バトルスピリッツ ソードアイズ) is an anime inspired by Bandai's Battle Spirits trading card game and produced by Sunrise. It is not related to any previous Battle Spirits anime work. It began airing on September 9th, 2012 at 7:00 AM on TV Asahi's Sunday Morning Kids Block.
It is directed by Masaki Watanabe and was composed by Atsuhiro Tomioka. Character designs are provided by Tomoshige Inayoshi. For more information on this anime's staff, see Sword Eyes Staff by Episode.
Starting 4/07, with the 30th episode, the series is named as Battle Spirits Sword Eyes Gekitouden (バトルスピリッツ ソードアイズ激闘伝; Battle Spirits Sword Eyes Fierce Battle Legend).
The series is going to be aired in Italy for the first time on the the tv channel Rai Gulp on 29/01/2019.
This is the succeessor of Battle Spirits Heroes & predecessor of Saikyo Ginga Ultimate Zero Battle Spirits.
Plot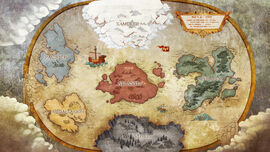 Atlantia, the largest country of Legendia is torn apart by riots. 14 years later, a boy named Tsurugi Tatewaki, who was taken away from the chaos, meets Bringer, a card battler droid destined to protect Tsurugi. Tsurugi is trained in Battle Spirits to face the army of darkness, who is trying to gather the 12 Sword Braves to summon the Sword of Judgment.
Tsurugi planned to use it and defeat his brother Yaiba, the Midnight Sun king, later on, they have joined forces and used it to declare a war against God, it's a fight for mankind, risking the world to comeplete the quest.
Characters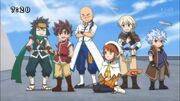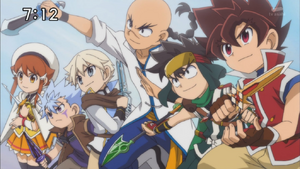 Sword Eyes of Light
Sword Eyes of Darkness/Allies
Red Army
Messengers of God
Other Characters
Episodes
#

Title

Air Date

1

Myth of Light and Darkness - The ShineDragon Shining-Dragon!
(Hikari to Yami no Shinwa Teru Shainingu Doragon! - 光と闇の神話 輝龍シャイニング・ドラゴン!)

09/09/12

2

Green Pursuit Battle! Ninetail-Dark's Eye
(Midori no Tsuigekisen! Nainteiru Daaku no Hitomi - 緑の追撃戦!ナインテイル・ダークの瞳)

09/16/12

3

Elder and Younger Brother - The MidnightSunTreasuredSword Midnight-Sun
(Ani to Ototo Byakuya no Takara Tsurugi Middonaito San - 兄と弟 白夜の宝剣 ミッドナイト・サン)

09/23/12

4

Blue Sword of Light, The BattleRadiantGod Soldnerg
(Hikari no Ao Tsurugi, Sen Ki Shin Zerudonaagu - 光の青き剣、戦輝神ゼルドナーク)

09/30/12

5

Brave Assault!?! The BlueWaterGreatSword Maelstrom
(Gattai Kyoushuu!?! Ao Umi no Dai Tsurugi Meirushtoromu - 兄と弟 白夜の宝剣 ミッドナイト・サン)

10/07/12

6

Green Light is a Ninja!? Hagakure, Enter
(Hikaru Midori wa Ninja!? Hagakure, Iza Mairu - 光る緑は忍者!? ハガクレ、いざ参る)

10/14/12

7

Test of the Gods! Tsurugi vs. Justice Tachibana
(Kami no Shiren! Tsurugi tai Jyasutisu Tachibana - 神の試練!ツルギVSジャスティス立花)

10/21/12

8

The Changing World- Scorching Flame Field!
(Ugokidasu Sekai Fureimifuiirudo Shakunetsu! - 動き出す世界 フレイムフィールド灼熱!)

10/28/12

9

Purple Darkness, The BlackCorpseEmperor Baldanders
(Murasaki no Yami, Kuroki Mukuro Ou Barutoanderusu - 紫の闇、黒き骸王バルトアンデルス)

11/04/12

10

What's a Human? The SkullBlade Executioners
(Ningen tte Nanda? Hone Tsurugi Eguzekyuushonaazu - 人間って何だ?骨剣エグゼキューショナーズ)

11/11/12

11

Deliciousness is Justice! The LightWingsDivineBlade Angelicfeather
(Oishii wa seigi! Hikari Tsubasa no Kami Tsurugi Enhierikkufezaa - おいしいは正義! 光翼の神剣エンジェリックフェザー)

11/18/12

12

Reunion with Mom, That Smile...
(Saikai Haha yo , Sono Hohoemi wa - 再会 母よ、その微笑みは)

11/25/12

13

Fated Match- The BlackHeavenFox Nega-Ninetail!
(Shukumei no Taiketsu Kuro Ten Kitsune Nega Nainteiru ! - 宿命の対決 黒天狐ネガ・ナインテイル!)

12/02/12

14

The FlashDragonEmperor TheEnd-Dragonis Rushes!
(Metsu Ryuu Mikado Jiendo Doragonisu Bakushin ! - 滅龍帝ジエンド・ドラゴニス驀進!)

12/09/12

15

Purple and Green at Risk- Farewell Hayatemaru!?
(Murasaki to Midori no Kake Saraba Hayatemaru!? - 紫と緑の賭け さらば疾風丸!?)

12/16/12

16

Midnight Sun! Allies Divided!? Tsurugi vs. Kizakura!
(Byakuya! Nakama Ware !? Tsurugi tai Kizakura - 白夜! 仲間割れ!? ツルギVSキザクラ! )

12/23/12

17

Is This a Ruler's Battle!?! DarkEmperor vs. CorpseKing
(Kore ga Ouja no Batoru !?! Yami Kou tai Mukuro Ou ! - これが王者のバトル!?! 闇皇VS骸王!)

1/06/13

18

Double Brave- Bringer's Deck, Release!
(Daburubureibu Buringaa Dekki Kaihou! - ダブルブレイヴ ブリンガーデッキ界放!)

1/13/13

19

Bringer in Danger! Yaiba vs. Kizakura
(Buringaa Abunaushi! Yaiba tai Kizakura - ブリンガー危うし!ヤイバVSキザクラ)

1/20/13

20

Ocean Deck of Revenge! The StrangeSeaCreatureGod Dist-Rusction
(Fukushuu no Umi Dekki! I Umigami Deisuto Rukushion - 復讐の海デッキ! 異海神ディスト・ルクシオン)

1/27/13

21

Rescue, The ShiningSunDragonEmperor Shining-Dragon-Ark
(Sukue , Kouki Ryuu Kou Shainingu Doragon Aaku - 救え、光輝龍皇シャイニング・ドラゴン・アーク)

2/03/13

22

The Two Princes- The Thing that Guides a Kingdom
(Futari no Ouji Kuni wo Michibiku Mono - ふたりの王子 国を導く者)

2/10/13

23

Legend of the White Knight- The SkyLightSword Crown-Solar
(Shiroki Kishi no Densetsu Tenkuu no Hikari Tsurugi Kuraun Souraa - 白き騎士の伝説 天空の光剣クラウン・ソーラー)

2/17/13

24

Revealing the Truth! Yellow Deck Duel!
(Akiraka Sareru Shinjitsu ! Kiiro Dekki Taiketsu ! - 明かされる真実! 黄色デッキ対決!)

2/24/13

25

SkyLightSword, Brave with Kugel-Horn!
(Tenkuu no Hikari Tsurugi , Kuugeru Horun ni Bureivu Se Yo ! - 天空の光剣、クーゲル・ホルンにブレイヴせよ!)

3/03/13

26

Who is this Battle For? Tsurugi vs. Bringer
(Dare ga Tame no Batoru Tsurugi tsui Buringaa - 誰がためのバトル ツルギ対ブリンガー)

3/10/13

27

Clash to Freedom! Haqua vs. Brau!
(Jiyuu e no Gekitou! Hakua tsui Burau - 自由への激闘! ハクア対ブラウ)

3/17/13

28

Tsurugi Rises in Darkness- The DarknessDemonSword Dark-Blade Awakens
(Tsurugi Yami ni Tatsu Ankoku no Maken Daaku Bureedo Kaigen - ツルギ闇に起つ 暗黒の魔剣ダーク・ブレード開眼!)

3/24/13

29

Deeper than the Earth- The DarkDragon Dark-Tyrannosaura Roars!
(Chi no Soko Yori Yami Ryuu Daaku Teiranozauraa houkou ! - 地の底より 闇龍ダーク・ティラノザウラー咆哮!)

3/31/13

30

Dark vs. Light! Tsurugi vs. Tsurugi?!
(Yami tsui Hikari! Tsurugi tsui Tsurugi!? - 闇対光! ツルギ対ツルギ!?)

4/07/13

31

Weirdo Showdown! The BlackInsectDemonBlade Usubakagero Laughs!
(Hen na Yatsu Taiketsu ! Kuro Mushi no You Katana Usubakagerou Reishou ! - 変な奴対決! 黒蟲の妖刀ウスバカゲロウ冷笑!)

4/14/13

32

The FantasyHeavenBlade Twilight-Fantasia's Boisterous Dance!
(Mugen no Ten Tsurugi Towairaito Fantajia Ranbu ! - 夢幻の天剣トワイライト・ファンタジア乱舞!)

4/21/13

33

The World a King Sees- The DarkKingMachineBeast Darkness-Griffon
(Ou ga Miru Sekai Kuro Kou Ki Kemono daakunesu Gurifon - 王が見る世界 黒皇機獣ダークネス・グリフォン)

4/28/13

34

Secret of the Jewel- Amarello vs. Brau
(Takaradama no Himitsu Amarero tsui Burau - 宝玉のひみつ アマレロ対ブラウ)

5/05/13

35

Meet The LightFangPhoenix Rekkuumaru! Hagakure vs. Rirove
(Hikari Kiba Houou Rekkuumaru Kenzan! Hagakure tai Rirouvu - 光牙鳳凰レックウマル見参!ハガクレvsリローヴ)

5/12/13

36

Hagakure, Take Back the Love!
(Hagakure, Ai wo Torimodose! - ハガクレ、愛を取り戻せ!)

5/19/13

37

Which is the King!!? DarkDragon vs. DarkKingMachineBeast
(Ouja wa Docchi da !!? Yami Ryuu tai Kuro Kou Ki Kemono - 王者はどっちだ!!? 闇龍VS黒皇機獣)

5/26/13

38

The Dream Yaiba Saw- Midnight Sun King vs. Dark Yellow
(Yaiba ga Mita Yume Byakuya Ou tai Yami no Kiiro - ヤイバが見た夢 白夜王VS闇の黄色)

6/02/13

39

The Age of Myth- The Spirits' War Cry
(Shinwa no Jidai Supiritto Tachi no Osakebi - 神話の時代 スピリットたちの雄叫び)

6/09/13

40

That Man, Garudos' Wicked Confession
(Sono Otoko, Garudosu Jaaku no Kokuhaku - その男、ガルドス 邪悪の告白)

6/23/13

41

Farewell, Suou- Resurrect, Lightning-Shion
(Sayonara Suou Yomigaere Raitoningu . Shion - さよならスオウ 蘇れライトニング・シオン)

6/30/13

42

Tsurugi vs. Suou! The DragonShineDeity Shining-Dragon-Overray!
(Tsurugi VS Suou ! Ryuu Teru Kami Shainingu . Doragon . Oobaarei ! - ツルギVSスオウ! 龍輝神シャイニング・ドラゴン・オーバーレイ!)

7/07/13

43

Ritual of Light and Dark- Rise of the Sword of Judgment!
(Hika to Yami no Gishiki Sabaki no Shin Ken Shourai! - 光と闇の儀式 裁きの神剣招来!)

7/14/13

44

God vs. Man- The Sword of Judgment Mobilizes
(Kami tai Nin Sabaki no Shin Ken Kidou ! - 神VS人 裁きの神剣起動!)

7/21/13

45

Sword Eyes Counterattack- Defeat Garudos
(Hangeki no Soodoaizu Garudosu wo Taose ! - 反撃のソードアイズ ガルドスを倒せ!)

7/28/13

46

God's Punishment!? Hagakure vs. Kizakura
(Kami no Batsu !? Hagakure tai Kizakura - 神の罰!? ハガクレVSキザクラ)

8/04/13

47

Listen to Me! Tsurugi vs. Yaiba
(Ore no Kotoba o Kike! Tsurugi tai Yaiba - 俺の言葉を聞け! ツルギ対ヤイバ)

8/11/13

48

To a World of Answered Dreams- Bringer Mk-III's Sortie!
(Yume kanau Sekai e Buringaa Mk-3 Shutsugeki! - 夢かなう世界へ ブリンガーMkー3出撃!)

8/18/13

49

Aim for God- Harshness of the Sword Eyes Deck!
(Kami wo utsuo soudouaizudekki shunretsu! - 神を撃つ ソードアイズデッキ峻烈!)

9/01/13

50

Humanity, a Legend they Created
(Jin, Tsukuri shi Shinwa - 人、作りし神話)

9/08/13
Music
Opening theme
1: "Wild Card" (eps 1-26)
Performance: Hiroshi Tada
2: "Billy Billy" (eps 27-50)
Performance: CLUTCHO
Ending themes
1: "Color" (eps 1-26,50)
Performance: i☆Ris
2: "IN FUTURE!!" (eps 27-49)
Performance: Youtak II (Yuuki Ono and Takuya Eguchi)
Releases
This series was only released in a DVD box set, containing all 50 episodes. It shipped exclusively to Japan, thus making it much harder to import than the previous series' releases.
The DVD set came with a multitude of extras, such as a drama CD, audio commentary, 3 alternate artwork promo cards (The Sword of Judgment Re-Genesis, The DragonShineDeity Shining-Dragon-Overray, The DarkKingMachineBeast Darkness-Griffon), textless versions of the OP and ED sequences, PVs, character and spirit artwork, and the collection of eyecatches.
Related Articles
Battle Spirits Sword Eyes (manga)
Gallery
Community content is available under
CC-BY-SA
unless otherwise noted.