New Pokemon Games - The Loop
Play Sound
Battle Spirits: Shounen Gekiha Dan ('バトルスピリッツ 少年激覇ダン'; Battle Spirits: Clash Boy Dan) is a manga inspired by Bandai's trading card game. It ran in the monthly magazine, Kerokero Ace, during the run of the anime version of Battle Spirits Shounen Gekiha Dan.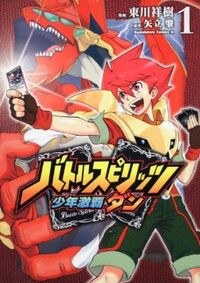 It was drawn by Yoshiki Togawa.
Releases
Three tankoubon were released.
Volume 1- Released 3/26/2010
Volume 2- Released 6/26/2010
Volume 3- Released 9/25/2010
Differences between the Anime and Manga
As of the first volume, changes are very sparse. Most dialogue is identical to the anime. The battle between Dan and Crown was removed, as was the entire episode where Revolver was introduced.
Zungurii found Siegfried outside of the Mimi village, and inserted it in Dan's deck when he wasn't looking.
Changes begin in volume two. After Suzuri's first battle with Dan, he joins with the other core soldiers.
The battle with Mira was removed.
Julian appears during the incident at the red Horizon Ladder, and Dan gets Meteorwurm there. Also, Dan saves Kajitsu rather than Yuuki. Yuuki joins Dan after this.
Kajitsu is actually dead all along.
Dan seems to have a crush on Kajitsu.
The Grand Rolo Championship is removed, but Gaana appears and tries to take Kajitsu as his bride rather than Magisa.
Related articles