Battle Spirits Saga Brave
Type
Anime series
Length
3 episodes
Director
Watanabe Masaki
First Release
June 14, 2019
Aired On
Battle Spirits franchise's official YouTube channel
Battle Spirits Saga Brave (バトルスピリッツサーガブレイヴ?) is anime inspired by Bandai's Battle Spirits trading card game and produced by Sunrise and Bandai Namco Pictures and the 9th installment following Battle Spirits Double Drive. It is the sequel to Battle Spirits Shounen Gekiha Dan and Battle Spirits Brave as the third of the Dan Bashin Saga of the Otherworldly Records Series. It was uploaded on June 14, 2019 at the franchise's official YouTube Channel.
It is directed by Watanabe Masaki and composed by Tomioka Atsuhiro. Character designs were provided by Yoshinori Yumoto and Tetsuya Ishikawa.
This series is not currently licensed or dubbed outside of Japan, but was released worldwide on its channel with subtitles.
This would be the first series of the franchise to have blood.
Plot
The year is 2661 CE, ten years after Bashin Dan heroically became the trigger to stop the Earth's reset. On the anniversary of this sacrifice, Barone and Clackey hold a conference, celebrating the union of Mazoku and humanity, and also Dan's feats.
However, beneath that peace, an organization named Cardinal Sign advocates for the subjugation of Mazoku and human supremacy. They resort to terrorist attacks, violence, and have somehow obtained the 12 Zodiac X-Rares which ought to have vanished together with Dan.
Amidst all this chaos, the core bearers feel a weird sensation, one they recognize before. What could be the meaning of it, and what is the meaning behind the card that appeared within their decks, named "The Clash King's Miracle"?
Characters
Leos Gideon

Taana

Gratos

Zabaia
Episodes
Music
Opening Theme
1: "Returner ~Fukkatsu no Legend~" (ep 2-3)
Performed by: JAM Project
Lyrics and Composition by: Hironobu Kageyama
Arrangement by: Makoto Miyazaki
Ending Themes
1: "Returner ~Fukkatsu no Legend~" (ep 1)
Performance: JAM Project
Lyrics and Composition: Hironobu Kageyama
Arrangement: Makoto Miyazaki
2: "Kimi ga Matteru" (ep 2)
Lyrics, Composition, Performance: Mitsuhiro Oikawa
Arrangement: Takano Rose
3: "Free" (ep 3)
Lyrics, Composition: Tatsuro
Arrangement: Takayuki Kato
Performance: Karasu
Blu-Ray Collector's Box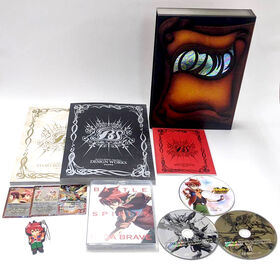 A Blu-Ray disc collection scheduled for release on March 27, 2020, with a prepaid ordering application from September 20 to November 4, 2019. The more Core sets ordered, the more special prizes includes.
Contents
Extra Contents
| Core #s | + Content |
| --- | --- |
| 1000 | SD Character Rubber Straps |
| 1200 | Storyboards for all 3 episodes |
| 1500 | Original filler novel "Dan Episode 51" by Atsuhiro Tomioka |
| 1800 | 20cm Bladra doll |
| 2000 | Dan Bashin's Battle Form Paperweight |
External Links