Battle Spirits: Heroes (バトルスピリッツ 覇王 (ヒーローズ)) is a manga inspired by Bandai's trading card game. It ran in the magazine, Saikyo Jump, during the run of the anime version of Battle Spirits Heroes. An alternate manga also ran in the Kerokero Ace magazine, as usual.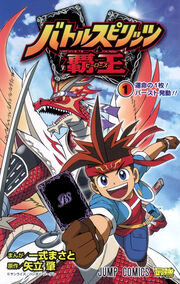 It was drawn by Masato Ichishiki.
Releases
2 tankouban was released. The first volume came with an alternate artwork promo of The HeroDragon Lord-Dragon.
Volume 1- Released 3/02/2012
Volume 2- Released 9/04/2012
Differences between the Anime and Manga
Rather than Hajime's parents building the battlefield, it already existed, and Hajime learned about it from Arata.
Hajime already had The HeroDragon Lord-Dragon before the start of the series.
Hajime defeats Tegamaru the first time they battle.
Kouta participates in the Hero Championship, and is eliminated in the local tournament. Kimari is also eliminated, and Manabu didn't enter at all.
Tegamaru had The KatanaHero Musashied-Ashliger during the local tournament.
Hajime battled and defeated Arata during the Hero Championship.
The StrongestDragonKing Siegfiredragon, a real-life Jump Promo, was offered as a prize for winning the championship.
Related articles
Battle Spirits Heroes anime
Community content is available under
CC-BY-SA
unless otherwise noted.