Battle Spirits Burning Soul (バトルスピリッツ烈火魂 <バーニングソウル>) is a manga inspired by Bandai's trading card game. It ran in the monthly magazine, Saikyo Jump, during the run of the anime version of Battle Spirits Burning Soul.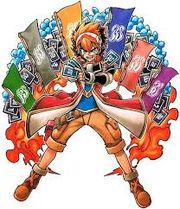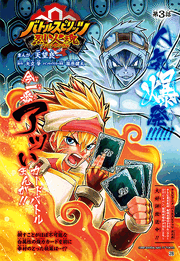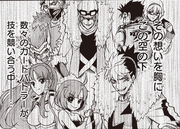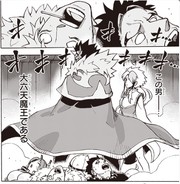 It was drawn by Yoshikazu Amami
Releases
One tankoubon has been released so far.
Volume 1 - Released 4/04/2016
Differences Between the Anime and Manga
The setting appears to be in the past, rather than a futuristic setting.
Toshiie is a villain, who forces those to lose to him to do slave-like labor.
Yukimura comes to battle Toshiie and points out that he has no desire to save the people, that they should become strong and save themselves. This contrasts with his more meddlesome hero anime personality.
When Yukimura meets Sasuke, his three friends are absent.
Kanetsugu uses a bird deck, rather than bugs.
When Toukichirou's gang attacks Toshiie's territory with the intent to take control of it, Yukimura is the one that faces Toukichirou, not Toshiie.
Souun's personality is different, as she uses her beauty as a weapon.
Hanzou uses a deck of cute girl spirits, rather than his yokai style.
When Yukimura faces Dairoukuten Maou, Ranmaru was with him all the way. This Ranmaru is implied to be his lover. Although Ranmaru's gender is not stated in the manga, the character is likely still male as in the anime.
Dairoukuten Maou has defeated everyone other than Yukimura, including his own ally, Toukichirou.
Dairoukuten admits that Yukimura is his rival, quoting that "This world doesn't need two men that unite the nation"
Related Articles
Community content is available under
CC-BY-SA
unless otherwise noted.