Batosupi! We are the Battle Spirits Club (
バトスピ! 私たちバトルスピリッツ部ですっ☆'
) is a manga inspired by Bandai's trading card game. It ran in the monthly magazine, Young Ace, from November 4th, 2009- November 4th, 2010.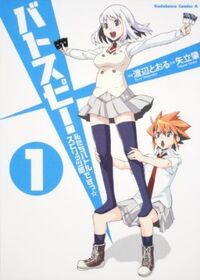 It was drawn by Toru Watanabe.
This manga differs from the rest because it is not an adaptaiton of any of the Battle Spirits anime series. It is an original story, about a school's Battle Spirits club, where playing Battle Spirits isn't the main factor of the story. The two main characters, Jun and Maaya, are girls who resemble J Sawaragi and Toppa Bashin, respectively.
Characters
Releases
Two tankoubon were released.
Volume 1- Released 3/26/2010
Volume 2- Released 12/28/2010
Community content is available under
CC-BY-SA
unless otherwise noted.