Introduction
BSC35, entitled Diva Booster - Dream Idol Festival (ドリームアイドルフェスティバル!), is a supplementary set that was released on November 30, 2019. The spirit cards in this pack are focused on the Diva family, and the entire Set is composed of Yellow Spirits, Braves, Magics and Nexuses. The first Diva XX-Rare and the "Idol" family debuted on this pack, while also gathering the remaining members of the CoZ 12 Team. This pack was released together with the Collaboration Starter, "Aikatsu! The School of Beginnings" and continued the collab, featuring even more Aikatsu cards.
It included a total of 67 cards: 30 C, 20 R, 8 M, 8 X-Rares, 1 XX-Rare and 2 Campaign Promos.
Set Images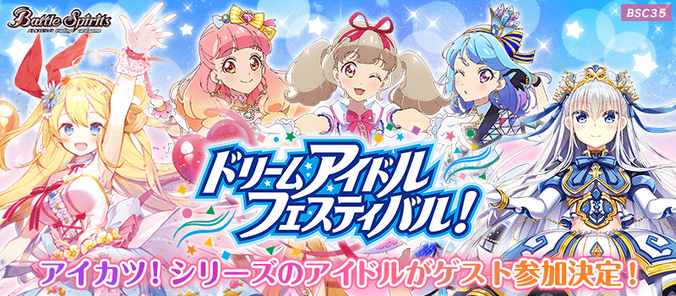 Extra Articles
Set Card List
Aikatsu! Collaboration Card List
Community content is available under
CC-BY-SA
unless otherwise noted.