Arcanasoldier-Cinq

アルカナソルジャー・サンク

Name
Arcanasoldier-Cinq
Kanji/Kana
アルカナソルジャー・サンク
Released in (Japanese)
BS04
Released in (English)
BS04- Ascension of Dragons
Color
Yellow
Cost
5
Reduction
Symbols
Family
Magician
Levels
Level 1: 1 core, 3000 BP
Level 2: 2 core, 4000 BP
Description

English
[LV2] (During Opponent's Turn) Each time your opponent plays a spell that effects multiple spirits including this spirit, you may change the spell to effect only this spirit.

Flavor Text

English/Japanese
The soldier led us to the palace in a respectful manner. We were finally reaching the key.
-from the 5th paragraph in chapter Yellow of "Record of the Strange World" by Wanderer Lolo"-

Rarity
Common
Illustration
Tai Nakashima
Rulings/Restrictions
None
Trivia:
Related to: Arcanabeast-Ken Arcanadoll-Pan, Arcanaprince-Obero, Arcanadoll-Tria, Arcanabeast-Paira, Arcanaprincess-Un, Arcanabeast-Hart, Arcanafighter-Quatre, ArcanaKing-Charle, ArcanaKnight-Hex, ArcanaQueen-Pallas, Arcanabeastqueen, Straight Flush. Three Cards, The Winner's Green Field, Arcanabeast-Jack
Gallery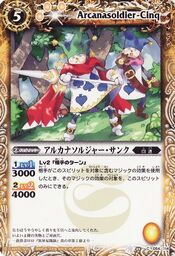 Community content is available under
CC-BY-SA
unless otherwise noted.