Arcanafighter-Quatre

アルカナファイター・カトル

Name
Arcanafighter-Quatre
Kanji/Kana
アルカナファイター・カトル
Released in (Japanese)
BS05
Released in (English)
BS04- Ascension of Dragons
Color
Yellow
Cost
4
Reduction
Symbols
Family
Magician
Levels
Level 1: 1 core, 4000 BP
Level 2: 3 core, 6000 BP
Flavor Text

English/Japanese
The soldiers are bustling restlessly. I thought they were getting ready for the journey to find the key. But it seems like they were preparing for the Queen's 44th birthday party. They say number 4 is considered to be the lucky number in the land of Trump. Well, congratulations, my lady.
-from the 2nd paragrph in chapter Yellow of "Record of the Strange World" by Wanderer Lolo"-

Rarity
Common
Illustration
Tai Nakashima
Rulings/Restrictions
None
Trivia:
Related to: Arcanabeast-Ken, Arcanadoll-Pan, Arcanaprince-Obero, Arcanadoll-Tria, Arcanabeast-Paira, Arcanaprincess-Un, Arcanabeast-Hart, Arcanasoldier-Cinq, ArcanaKing-Charle, ArcanaKnight-Hex, ArcanaQueen-Pallas, Arcanabeastqueen, Three Cards
Gallery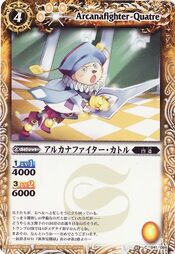 Community content is available under
CC-BY-SA
unless otherwise noted.