Arcanadoll-Tria

アルカナドール・トリア

Name
Arcanadoll-Tria
Kanji/Kana
アルカナドール・トリア
Released in (Japanese)
BS03
Released in (English)
BS03- Scars of Battle
Color
Yellow
Cost
3
Reduction
Symbols
Family
Magician
Keyword
Brilliance (Light)
Levels
Level 1: 1 core, 2000 BP
Level 2: 3 core, 4000 BP
Description

English
[LV2] Brilliance (When Attacks) At the end of the battle, every magic card you used during this battle returns to your hand.

Flavor Text

English/Japanese
It seems that a key was found in the land of trump. Can you get more detailed information? Look, that guy seems to be the easy one to get the information out of.

Rarity
Common
Illustration
Mila Aizawa
Rulings/Restrictions
None
Trivia:
Related to: Arcanabeast-Ken, Arcanadoll-Pan, Arcanaprince-Obero, Arcanabeast-Paira, Arcanaprincess-Un, Arcanabeast-Hart, Arcanasoldier-Cinq, Arcanafighter-Quatre, ArcanaKing-Charle, ArcanaKnight-Hex, ArcanaQueen-Pallas, Arcanabeastqueen, Four Cards
Gallery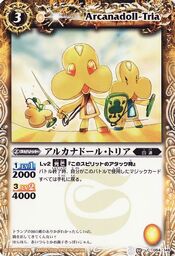 Community content is available under
CC-BY-SA
unless otherwise noted.