Arcanabeast-Ken

アルカナビースト・ケン

Name
Arcanabeast-Ken
Kanji/Kana
アルカナビースト・ケン
Released in (Japanese)
BS02
Released in (English)
BS02- Rise of Angels
Color
Yellow
Cost
2
Reduction
Symbols
Family
Magician
Levels
Level 1: 1 core, 2000 BP
Level 2: 2 core, 3000 BP
Level 3: 4 core, 5000 BP
Description

English
[LV3] (Permanent) All spirits you control that have "Arcana" in their name get the following effect text:

[Any LV] (When Blocks) This spirit gets +2000 BP until end of turn.

Flavor Text

English/Japanese
Guys from the land of trump work as one. Isn't that annoying?

Rarity
Common
Illustration
Susumi Imaishi (concept)
Rulings/Restrictions
None
Trivia:
Related to: Arcanadoll-Pan, Arcanaprince-Obero, Arcanadoll-Tria, Arcanabeast-Paira, Arcanaprincess-Un, Arcanabeast-Hart, Arcanasoldier-Cinq, Arcanafighter-Quatre, ArcanaKing-Charle, ArcanaKnight-Hex, ArcanaQueen-Pallas, Arcanabeastqueen
Appearances:
Battle Spirits Shounen Toppa Bashin
Battle Spirits Shounen Gekiha Dan
Gallery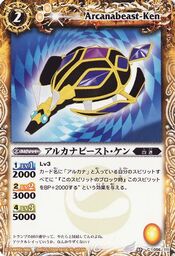 Community content is available under
CC-BY-SA
unless otherwise noted.