Angelic Pressure
エンジェリックプレッシャー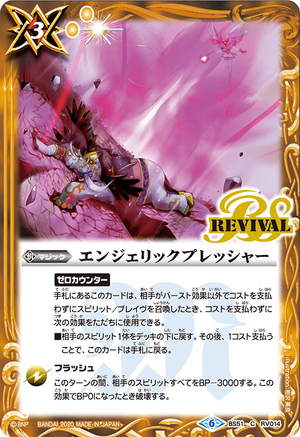 Card Effects
Zero Counter
When the opponent summons a Spirit/Brave without paying the cost, other than by a Burst effect, this card in Hand can be used without paying the cost and immediately activate the following effect.
█ Return an opposing Spirit to the deckbottom. Then, by paying one cost, return this card to the Hand.



Flash


During this turn, give every opposing Spirit -3000 BP, and destroy those whose BP reaches 0.
Card Effects (JP/日本語)
【ゼロカウンター】
手札にあるこのカードは、相手がバースト効果以外でコストを支払わずにスピリット/ブレイヴを召喚したとき、 コストを支払わずに次の効果をただちに使用できる。
■相手のスピリット1体をデッキの下に戻す。その後、1コスト支払うことで、このカードは手札に戻る。

フラッシュ:このターンの間、相手のスピリットすべてをBP-3000し、BP0になったとき破壊する。
Gallery