Arcane: League of Legends - The Loop
Play Sound
Abyssal Mirage
アビサルミラージュ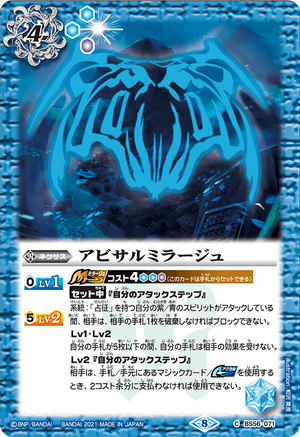 Card Type
Nexus
Color
Blue
Cost
4
Reductions
Symbols
Keywords
Mirage
Levels
Level 1: 0 cores
Level 2: 5 cores
Card Effects
Mirage:
Cost 4 (
) (This card can be set from the Hand)


During Set

(Your Attack Step)
While your Purple/Blue "Astroblazer" family Spirit is attacking, the opponent cannot block unless they discard a card from their Hand.

[LV1][LV2]
While your Hand has five or less cards, your Hand is unaffected by opposing effects.

[LV2] (Your Attack Step)
The opponent cannot use Magic cards/Accel from the Hand/Removed Zone unless they pay two extra costs.
Card Effects (JP/日本語)
【ミラージュ】コスト4(青2紫1)(このカードは手札からセットできる)
【セット中】『自分のアタックステップ』 系統:「占征」を持つ自分の紫/青のスピリットがアタックしている間、相手は、相手の手札1枚を破棄しなければブロックできない。

Lv1・Lv2 自分の手札が5枚以下の間、自分の手札は相手の効果を受けない。

Lv2『自分のアタックステップ』
相手は、手札/手元にあるマジックカード/【アクセル】を使用するとき、2コスト余分に支払わなければ使用できない。
Sets
BS56 (Block icon 8 - Common)