Raise a Floppa - The Loop
Play Sound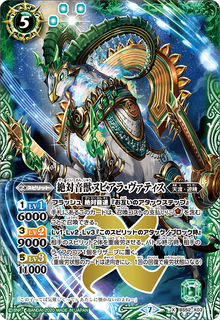 Absolute Sound Speed (絶対音速;zettai onsoku) is a keyword introduced in BS52, currently possessed only by The AbsoluteSoundBeast Nubiara-Vatis. The wording is as follows:
Flash - Absolute Sound Speed (Either Attack Step) You can summon this Spirit card from your Hand by including Soul Core when paying the cost.

Unlike High Speed, Absolute Sound Speed allows the player to use cores outside of the Reserve, providing that they are usable. However, the condition is that the cost must include Soul Core. Despite the name, Absolute Sound Speed can't use cores from Grandwalker Nexuses for the summon cost, which is what Sound Speed can do.
Also See
Related Articles