New Pokemon Games - The Loop
Play Sound
50th Kamen Rider Necrom
50th 仮面ライダー ネクロム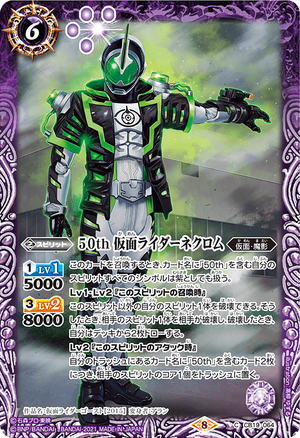 Kanji (漢字)
50th 仮面ライダー ネクロム
Card Type
Spirit
Color
Purple
Cost
6
Reductions
Symbols
Families
Kamen, Evil Shadow
Levels
Level 1: 1 core, 5000 BP
Level 2: 3 cores, 8000 BP
Card Effects
When summoning this card, the symbols of every "50th"-named Spirit you control are also treated as Purple.

[LV1][LV2] (When Summoned)
You can destroy another Spirit you control. When you've done so, the opponent destroy a Spirit they control, and when destroys, you draw two cards.

[LV2] (When Attacks)
For each two "50th"-named cards in your Trash, send a core from any opposing Spirits to the Trash.
Card Effects (JP/日本語)
このカードを召喚するとき、カード名に「50th」を含む自分のスピリットすべてのシンボルは紫としても扱う。
Lv1・Lv2『このスピリットの召喚時』
このスピリット以外の自分のスピリット1体を破壊できる。そうしたとき、相手のスピリット1体を相手が破壊し、破壊したとき、自分はデッキから2枚ドローする。


Lv2『このスピリットのアタック時』
自分のトラッシュにあるカード名に「50th」を含むカード2枚につき、相手のスピリットのコア1個をトラッシュに置く。
Sets
CB19 (Block icon 8 - Common)
Illust:

Yanagi Yuzuru

EN Flavor:


Series' Name: Kamen Rider Ghost (2015) User: Alain

JP Flavor:


作品名:仮面ライダーゴースト【2015】 変身者:アラン