New Pokemon Games - The Loop
Play Sound
50th Kamen Rider Genm Action Gamer Level 2
50th 仮面ライダーゲンム アクションゲーマー レベル2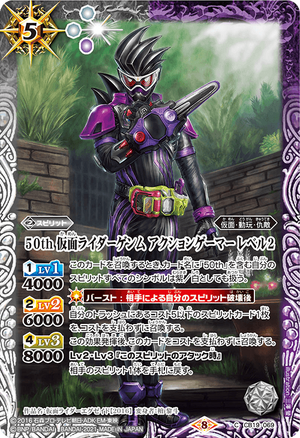 Kanji (漢字)
50th 仮面ライダーゲンム アクションゲーマー レベル2
Card Type
Spirit
Color
White Purple
Cost
5
Reductions
Symbols
Families
Kamen, Puppet Beast, Enemy
Keywords
Burst
Levels
Level 1: 1 core, 4000 BP
Level 2: 2 cores, 6000 BP
Level 3: 4 cores, 8000 BP
Card Effects
When summoning this card, the symbols of every "50th"-named Spirit you control are also treated as Purple/White.



[ Burst: After your Spirit is destroyed by the Opponent ]
Summon a Cost 5 or less Spirit card from your Trash, without paying the cost. After this effect resolves, summon this card without paying the cost.

[LV2][LV3] (When Attacks)
Return an opposing Spirit to the Hand.
Card Effects (JP/日本語)
このカードを召喚するとき、カード名に「50th」を含む自分のスピリットすべてのシンボルは紫/白としても扱う。
【バースト:相手による自分のスピリット破壊後】
自分のトラッシュにあるコスト5以下のスピリットカード1枚を、コストを支払わずに召喚する。この効果発揮後、このカードをコストを支払わずに召喚する。


Lv2・Lv3『このスピリットのアタック時』
相手のスピリット1体を手札に戻す。
Sets
CB19 (Block icon 8 - Common)
Illust:

Misawa Hotaru

EN Flavor:


Series' Name: Kamen Rider Ex-Aid (2016) User: Kuroto Dan

JP Flavor:


作品名:仮面ライダーエグゼイド【2016】 変身者:檀 黎斗