New Pokemon Games - The Loop
Play Sound
50th Kamen Rider Fourze Base States
50th 仮面ライダーフォーゼ ベースステイツ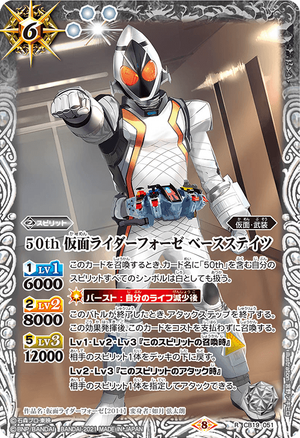 Kanji (漢字)
50th 仮面ライダーフォーゼ ベースステイツ
Card Type
Spirit
Color
White
Cost
6
Reductions
Symbols
Families
Kamen, Armed Machine
Keywords
Burst
Levels
Level 1: 1 core, 6000 BP
Level 2: 2 cores, 8000 BP
Level 3: 5 cores, 12000 BP
Card Effects
When summoning this card, the symbols of every "50th"-named Spirit you control are also treated as White.



[ Burst: After your Life decreases ]
When the battle ends, end the attack step. After this effect resolves, summon this card without paying the cost.

[LV1][LV2][LV3] (When Summoned)
Return an opposing Spirit to the deckbottom.

[LV2][LV3] (When Attacks)
You can target and attack an opposing Spirit.
Card Effects (JP/日本語)
このカードを召喚するとき、カード名に「50th」を含む自分のスピリットすべてのシンボルは白としても扱う。
【バースト:自分のライフ減少後】
このバトルが終了したとき、アタックステップを終了する。この効果発揮後、このカードをコストを支払わずに召喚する。

Lv1・Lv2・Lv3『このスピリットの召喚時』
相手のスピリット1体をデッキの下に戻す。


Lv2・Lv3『このスピリットのアタック時』
相手のスピリット1体を指定してアタックできる。
Sets
CB19 (Block icon 8 - Rare)
Illust:

Miyano Akihiro

EN Flavor:


Series' Name: Kamen Rider Fourze (2011) User: Gentaro Kisaragi

JP Flavor:


作品名:仮面ライダーフォーゼ【2011】 変身者:如月 弦太朗